"All anyone asks for is a chance to work with pride."
               W. Edwards Deming
Now it's time to start the assessment of the organization's baseline Quality Enablement (QE) Score. Here's where we identify the opportunities for improvement, as we start to more toward a better workplace.
Before we get into the details of the QE Score assessment process, I want to quickly review some of the points from the Validation phase discussion:
We're going to interview 20-25 individuals selected by the Sponsor and Project Leader;
The interviews will cover selected Subject Areas and Discussion Points from each Dimension; and
We'll plan for 60 minute interviews, but allow for 90 minutes.
Since there are more than 100 Discussion Points, one of the preparatory activities for the interviewer is to select the appropriate subset of discussion points for each person, ensuring that all discussion points are included in at least three interviews.
Today, we'll start to walk through the 8 Subject Areas and 34 Discussion Points in the People Dimension. As a review, each Discussion Point has:
An importance rating from 1 to 5 (5 being the highest importance); and
A score that ranges from 1 (highly inhibiting) to 7 (highly enabling).
To make the scoring reasonably consistent across teams, I've provided guidelines for behavior that would represent scores of 1, 4, and 7. Note that some Discussion Points focus on topics that are purely enabling (scores from 4 to 7), while some others are purely inhibiting (scores from 1 to 4).
Please also note that the information included below is part of a QE Score Excel workbook that will be made available at no charge to all current subscribers to this blog, along with some other goodies to be announced at a later date.
One final point: Since the People Dimension has the largest number of Discussion Points, I've split this discussion into two parts, to keep sizes of the individual blog entries reasonably consistent.
QE Score Assessment – People Dimension – Part 1 of 2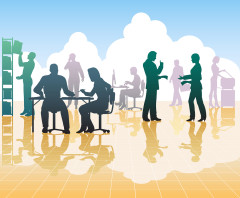 So let's get started. I'll list each Subject Area and the corresponding Discussion Points.   For each Discussion Point, I'll include the guidelines for scores of 1, 4, and 7. Those that are purely inhibiting are tagged with "(inhibiting)" and only have guidelines for 1 & 4; likewise, those that are purely enabling are tagged with "(enabling)" and only have guidelines for 4 & 7.  I've also included the importance rating (e.g. "[3]") for each Discussion Point.
For a review of the initial discussion of the People Dimension, see here.
Talent Acquisition
How are job descriptions prepared? [3]
1 – Reuse prior unchanged, even if from different department
4 – Review prior and improve for current
7 – Carefully tailor for each new job; active peer review for improvements
How are jobs sourced (internal vs. external, employee referrals)? [2]
1 – Outsourced / no interview
4 – Mix – internal, external, employee referrals
7 – High reliance on successful sources, employee referrals
How well do sources know the organization's culture and environment? [4]
1 – Not at all – not allowed to talk to hiring managers
4 – Fairly good understanding
7 – They understand requirements and culture very well
Describe the interview process [4]
1 – No interviews are done
4 – 1-2 people, skills-based interviews
7 – Includes behavioral interviewing, uses mgmt. teams
Tell me how the top candidate is selected [5]
1 – Hiring manager sole decision-maker, no other inputs
4 – A team of managers / employees, with focus on skills & experience
7 – Skills & experience, plus aptitude & cultural fit, multiple inputs
How are negotiations (compensation, time off, etc.) done? [3]
1 – We get the new employee as cheaply as possible
4 – Limited negotiation is allowed
7 – Our objective is to fairly balance requests with business needs
What time constraints are put on the selection process? (inhibiting) [2]
1 – All positions have a deadline for filling, else they are cancelled
4 – No constraints
What is the communication process for candidates in the pipeline? [2]
1 – Only contact candidate with offer
4 – Contact all after final candidate accepts
7 – Multiple progress emails to all candidates
On-Boarding
How are new hires trained on applicable corporate and team processes? (enabling) [5]
4 – No formal training given
7 – Thorough training provided
What specific actions are taken to help them integrate with the team? (enabling) [4]
4 – None
7 – Broad, such as team intro, key 1:1 meetings, manager checkpoints
Tell me about their work environment setup process (hardware, desk, etc.) [2]
1 – Not ready on 1st day
4 – All basic hardware / software ready
7 – 100% ready, welcome message, guide to system use, team contacts, etc.
What is done to help them network internally with key stakeholders? (enabling) [4]
4 – Nothing
7 – Personal introductions by manager, follow-up meetings set
How are they introduced to external customers, if applicable? (enabling) [3]
4 – No introductions to external customers
7 – Introductions by management, key skills / experience highlighted
How is the success of the on-boarding process validated and improved? [4]
1 – Nothing done to validate success of process
4 – Survey to new employee at completion of process
7 – Periodic feedback elicited by manager during process, changes made
What's Next
Next week, we'll complete the discussion of the People Dimension QE Score that we started today.
Until Then …
"To become different from what we are, we must have some awareness of what we are."
               Eric Hoffer